WINOMANIA
Get £5 no deposit required, 100% first deposit up to £200. T&C's Apply
Valid for new players, pending confirmation, deposit required for withdrawal, x30 wagering, max winnings £200. T&C Apply
£5
NO DEPOSIT BONUS

VISIT
Winomania Casino Review
There are certain expectations that players have when it comes to online casinos these days, but with the market being as busy as it is, and there being such a huge number of prospective casinos to choose from, what many players are looking for is something that does things a little differently, and that's a description that certainly fits Winomania.
Launched in 2018, Winomania entered the market and made it immediately clear that they have an approach to the online casino concept that others simply do not, which is something likely to spike the curiosity of a wide array of online casino players.
However, different is only step one, there have been many sites over the years which have stood out for all the wrong reasons and they have proven that being unique is not a guarantee of success.
There's a careful balance that must be created between the unique and the expected, yes, something fresh is helpful, but you also need to provide players with what they're used to, and, more importantly, what they want.
Do, does Winomania manage to avoid that trap and provide an alternative that is actually likely to be of interest to players? Or is this just another example of a site trying to be unique, and ending up just not offering anything that players actually want?
Design and theme
It must be said that optimism for Winomania's ability to stand out in the right way dissipates pretty rapidly when you see the design of the site, which is far from impressive.
A tacky blue and gold colour scheme is clearly designed to be retro, a nostalgic look back at the arcades and casinos of old, but it mainly just succeeds in reminding us why casinos and arcades don't look like that anymore.
None of this is aided by the awful logo that the Winomania site has, and the overly bright and busy design scheme across the site does little to help either.
Scan down the page and you'll find everything gets a bit gentler, with a white background allowing for the thumbnails to provide the artwork.
In one way, this is an effective approach, but on the other hand, the quality of the artwork from the games just shows up how dismal Winomania's own artwork is.
Navigation is easy enough, but that's not close to enough to make up for the downsides of this site, in short, this is a terribly designed site.
Games
The unique nature of Winomania isn't in its design, it is in the selection of games on offer.
Almost every online casino you come across will prioritise slot games due to the immense popularity of that game category, and the number of options available, with a smaller number focusing on classic table and card games.
Winomania takes a different approach, with the main game type here being one that is an afterthought at best at most competitor sites, scratchcards.
Instant win games do not enjoy the same level of popularity in the iGaming world that other game categories do, but the fact that there are hardly any online casinos offering anything close to a decent variety in scratchcards, Winomania will instantly catch the attention of players who favour this type of game.
Titles from Anakatech, Leander Games, Microgaming, and NetoPlay ensure that there's a good range of scratchcards here to, and there's also a few slots and table games to offer some variety, although it's entirely apparent what the focus is, and that's a definite unique selling point.
This site may look atrocious, but the offering of a unique selection of games might well be enough to save it.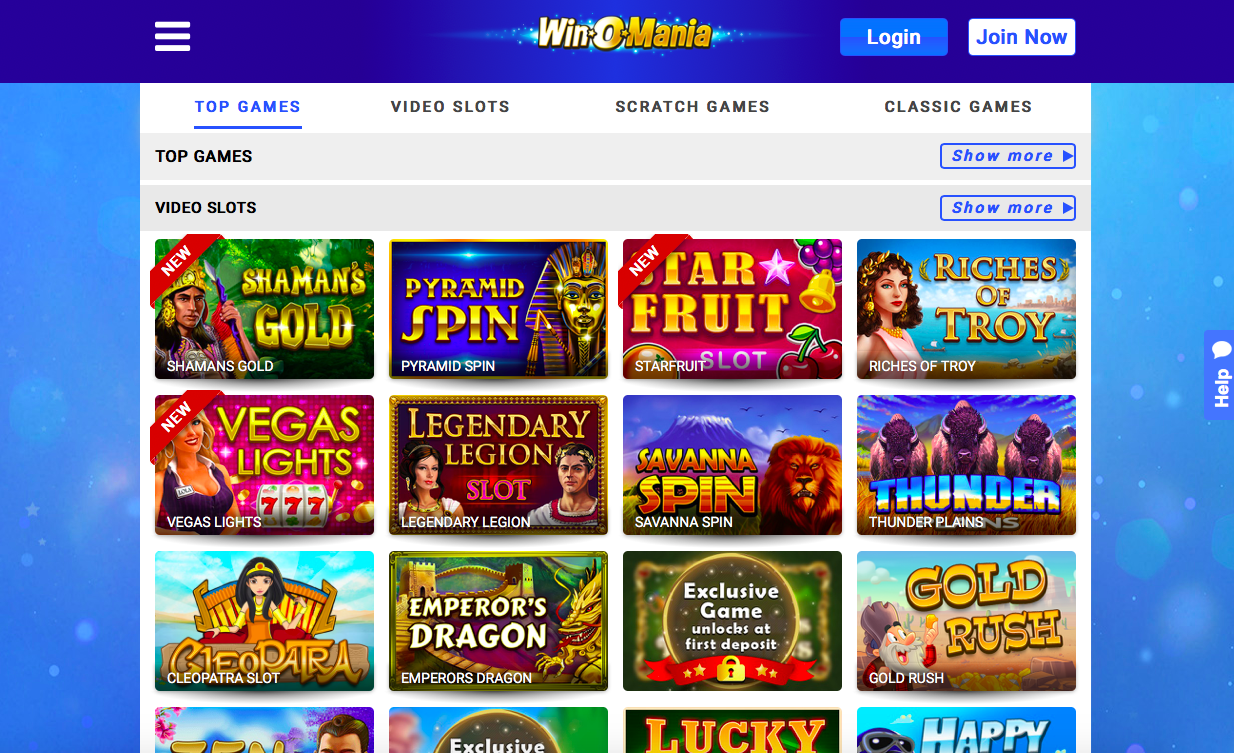 PLAY